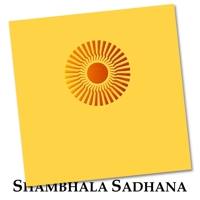 Full Moon Shambhala Sadhana
In 2011, The Sakyong Mipham Rinpoche composed the Shambhala Sadhana for the international Shambhala sangha. This sadhana provides an opportunity to refresh our faith in our own basic goodness and the basic goodness of humanity. Recently, the Sakyong requested that on or near the full moon, we gather as a community throughout Shambhala to engage in this profound practice.

In the past, this sadhana has been restricted to those who have received the practice at Enlightened Society Assembly but now the full moon Shambhala Sadhana practice will be open to all members of the Shambhala Center and their families. Please come out to enjoy this profound practice and each other's company - and food.
(Members who have not yet received the Shambhala Sadhana at Enlightened Society Assembly may participate in these Full Moon gatherings, but may not practice the sadhana on their own.)