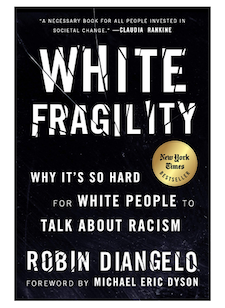 White Fragility Book Discussion
At the San Diego Shambhala Center, we are offering a series of discussions about race and white privilege, and how these can both inform and be informed by our dharma practice.

As the Reverend Angel Kyodo Williams points out in her book Radical Dharma, individual and social liberation cannot be separated, and the construct of whiteness and marginalization of people of color functions as a kind of social ego that presents a barrier to the liberation of all of us.

As a prerequisite to discussing the book, My Grandmother's Hands, we will be reading and discussing the book White Fragility, which invites us to look at how we as Americans have been immersed in a racist system, and brings our attention to the phenomenon of

"white

fragility

."
White

fragility

"...[Refers] to the defensive moves that

white

people make when challenged racially. W

hite

fragility

is characterized by emotions such as anger, fear, and guilt, and by behaviors including argumentation and silence. These behaviors, in turn, function to reinstate

white

racial equilibrium and prevent any meaningful cross-racial dialogue."
This will be our second and final discussion of White Fragility (for now). You are welcome to attend even if you were not at the first discussion!
Please note: Reading

White

Fragility

is a requirement for those with

white

skin privilege to participate in future conversations regarding race at the San Diego Shambhala Center. We will be using

White

Fragility

to develop the skills and common language necessary to have these discussions without perpetuating further harm. Thank you for your bravery and understanding.
Please join us in an exploration of how we can engage racial discussions mindfully and constructively.