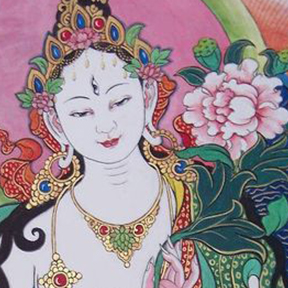 White Tara Practice (via Zoom)
with Shastri Ruth Wallen & Kathryn Sturch
White Tara is "one of the most famous bodhisattvas of compassion in Tibetan Buddhism. Emanated from the tears of the compassionate Avalokiteshvara, peaceful White Tara is said to witness the suffering of beings through her seven eyes, and she soothes their fear, calms their anguish, heals their suffering—both individual and communal—and extends their lives."
White Tara practice is helpful for promoting healthy home, family, and community life; for soothing turbulence, disturbances, and obstacles of all kinds; for promoting fertility and healthy pregnancy; and in general for bringing more balance, harmony, health, prosperity and nurture to your world.
This practice session is open to all.
Zoom link: https://zoom.us/j/380924087